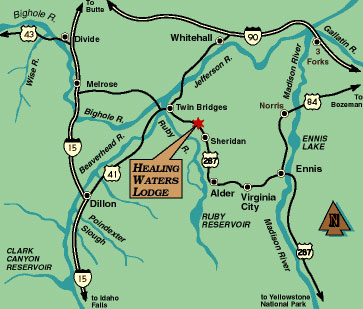 What can I say about these rivers that hasn't already been written in hundreds of books, the hatching activity times will fluctuate according to the snow pack and run off, the last 2 years have been more like normal. The previous 3 years were early by about 2 weeks, our recent guess is that it will be likely to happen during our trip:
The Beaverhead, just minutes away, should have PMD hatches all day, plus some Baetis. Plus evening caddis hatches, and we may see should also see Yellow Sally stonesflies coming on about that time.
The Big Hole, just a short drive away, should still have Golden Stone flies, PMD's and caddis. Occasionally we can get smaller may fly activity on this stream as well at this time, small BWO's.
The Madison may still have the big Salmon flies and Goldens still going, and the PMD's should also be getting started, as well as the caddis.
The Jefferson is similar to the Beaverhead but is generally 2 weeks ahead of the Beaverhead in hatching activity.