The Alagnak River in Alaska's Bristol Bay area is a superb wild rainbow trout fishery, the only "designated trophy fishing area" in Alaska, located at the edge of the famous Katmai National Park wilderness. The wild life is amazing and the trout are big, 18"-30"+, feisty and can be taken on a fly from June to October. They feed voraciously on the salmon eggs and get big and fat on the salmon runs. The river gets heavy runs of all the Pacific salmon species and when the salmon drop their eggs, these become the main diet of the rainbows throughout the summer and fall. Click Here to See the Alaska Trip Gallery!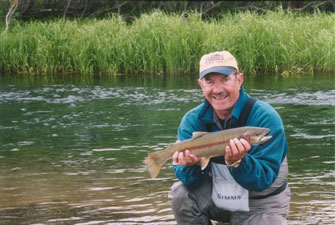 I fish the Alagnak for big rainbows but I prefer to catch them on dry flies! In order to do this, you must fish a "narrow 3 week window" from June 7 to June 25±, before the first salmon run, which usually starts at the end of June. During this period the trout feed on caddis and mayfly hatches in the mid to upper stretches and you can take these big "leopard" rainbows on caddis and mayfly dry fly patterns, as well as mouse patterns. It is really a "hoot" to hook 25" bows on a #12 and #10 mayfly and caddis pattern, and sometimes they will key in on #16's, or make a wake following a mouse pattern, which then gets blasted by a big rainbow from beneath or on top. Goes without saying, it's a lot of fun, keeps the adrenaline pumping! You will also catch large Artic grayling, char and Dolly Varden. If streamers or swinging leaches is your preference – you will also do very well. During my past trips, most of my clients have landed 15 to 30 per day of these big wild bows, called leopards, due to their striking, unusual spots. You can land even more of these fish on a good day. (see photos).
There are flyouts to other rivers available for the adventuresome from the lodges own air strip and air planes, but the Alagnak is a big, long river and I could fish it for weeks without the need for a change. Excellent guides fish you, and get this, "one-on-one" guiding in fast Jet boat sleds that can range 30-40 miles up river to get to the best spots! Spot moose and grizzly bear on the fly! Lots of TLC and special care!
The lodge and the food are excellent especially considering that you are in a total wilderness area with no roads. Very comfortable, homey, clean and spacious with plenty of quality food, fresh fish, steaks, chops, fresh veggies, fruit and a wonderful staff! Also, all the drinks including wines and beer are included in the price.
Two persons per guide. Fly-outs are not necessary as we use jet sleds that can range great distances during a day's fishing. Your guide is assigned a large beat that is used for you and your partner exclusively and the beats change every day.
We plan to run a tip there next spring. The price for the 8 day, 7 night, 7 day fishing trip is $5,500. Everything is included except air fare to King Salmon, the overnight at Coast International Hotel in Anchorage ($150), your fishing license and park fees ($125) and tips for guides and staff.
If you are interested in a "hosted" trip to the Alagnak River in June 2018, please call 570-635-5897 or email me at alcaucci@hancock.net for more details and pricing about the lodge and the fishing.