Don't Miss This Trip - Best Deal in Montana!
We stay in the great town of Missoula Montana, at the deluxe Double Tree Hotel with balconies overlooking the Clark Fork for 5 nights while we float the famous Clarkfork, Bitterroot, and Blackfoot rivers during prime time!! The pros and serious sight fishing flyfishers consider the Clarkfork, Bitterroot, along with the Missouri and the Beaverhead, the best dry fly rivers in the country, or perhaps the world, for big, wild, sipping trout!! Click here for 2017 trout photos from the Clarkfork and Bitterroot.
Expect to hook dozens of fish per boat, per day - these sipping fish are 17 to 20 inches with some browns and bows going to 23 inches. I pay extra and make special arrangements so that our floats start 9:00 A.M., and go till dusk, about 9:30 PM -12+ hour floats are a rarity in Montana where 9 to 5 is the rule. And don't sell the Blackfoot River short; it is the river made famous by the movie "A River Runs Through It", and also has monster Bull Trout. All floats include streamside dining right on the river with grilled beef, pork or chicken with salads, veggies and breads and desert, and a nice bottle of wine if you wish - it always tastes better on the river.
After your streamside dinner, it's back to sipping trout until dusk. It is not a problem for those who want to get back earlier in the evening, just tell your guide and he will take you back earlier. Another great feature is that - aside from our own party, you will seldom see another boat or wading angler on the Clarkfork the entire day, truly amazing! The Clarkfork is back!! It has made a tremendous come back since the dam above Missoula was removed over 12 years ago as you can see by our recent photos. It gets better and better each year with the hatches and size of the browns and rainbows. Clients will have the choice of fishing all three rivers or the ones that are fishing the best.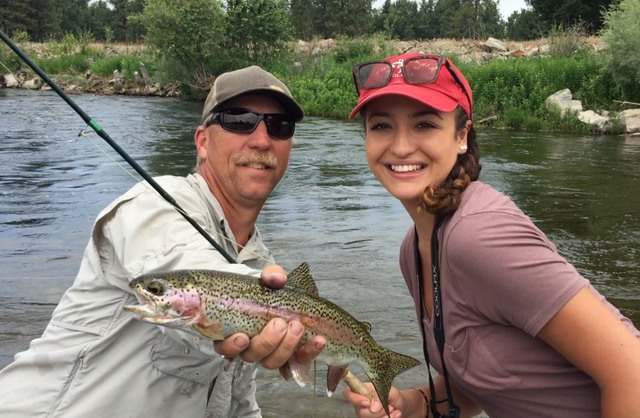 The price for the trip is a reasonable $2995, a bargain compare to most high quality Montana trips, and includes 5 nights accommodations at the Double Tree Hotel in large deluxe balcony rooms with queen beds overlooking the Clark Fork and the Univ. of Montana. Four 12 hour guided float trips down the Bitterroot/Clark Fork/Blackfoot rivers (your choice); group dinner on arrival day and daily luxurious group breakfasts at the hotel's " Finn and Porter Restaurant" overlooking the river; lunch, snacks and a hot dinner on the river including soft drinks (wine or beer if you like); round trip transportation from Missoula airport to and from the hotel. No need to rent a car! Call me at 570-807-5123 if you have any questions.
*If you want to fish a 5th day, July 3, the additional price is $500 per person for shared room and guide. Please let me know when you send in your deposit!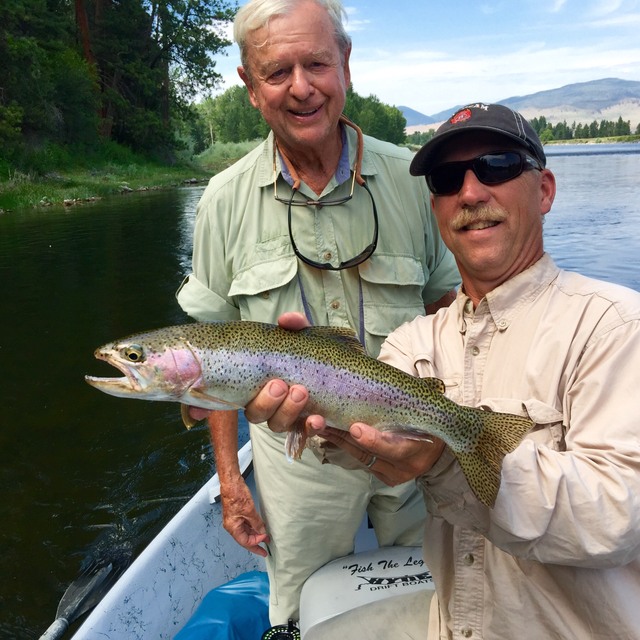 Price is based on 2 persons per room (large deluxe rooms with two queens, large bath suite and balcony overlooking the river), and 2 persons per guide. Everything is included except airfare, tips for guides and additional meals, drinks and incidentals at the hotel. The bar at the Doubletree serves food, pizza and cocktails for those night owls who want a late night snack or drink.
To register send your $1200 deposit now to Al Caucci Flyfishing, 1250 Winterdale Rd, Starlight Pa. 18461. Call me if you have any questions about the trip at 570-635-5897 or 570-807-5123 text or email me at alcaucci@hancock.net. During November 2-12, please contact me only on the 570-635-5897 number.
Cancelation Policy - ACFF is a small flyfishing destination business. Due to the fact that our Missouri R. and Missoula trip's time slot is in high demand, and that I strive to book the top guides and accommodations 1 yr in advance, I must have a strict booking/cancelation policy. If for any reason you must cancel your reservation, your deposit is non refundable unless you have a replacement, no matter what the cause of cancelation. We recommend that you protect yourself from any last minute changes, cancellations or any other unforeseen circumstance with Travel insurance. Thanks.