I started my "hosted" flyfishing trips and bonefish schools in the Bahamas in 1985 and they have run consistently every year since; 4 to 6 weeks per year. Over the years, my bonefish schools and hosted trips have introduced about a thousand trout fishermen into the thrilling sport of bonefishing on the Bahamas flats. Andros Island is the place to go for shear numbers of bonefish and for big bones (double digit fish). Click Here to See Bonefish Photos!
Whether you're a beginner, intermediate or experienced bone fisher, this trip is for you.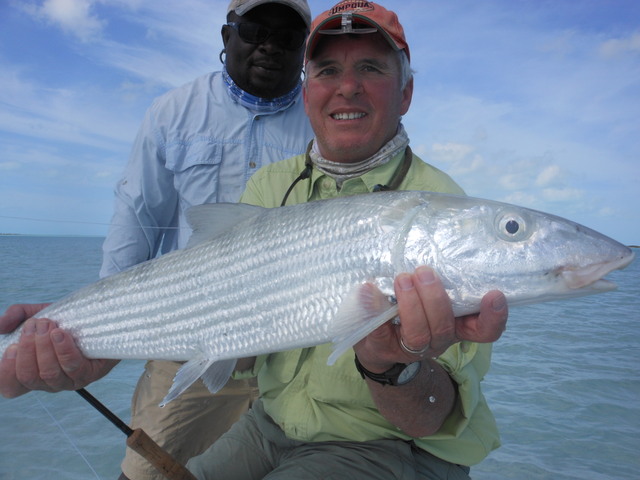 Andros is by far the best bonefish destination in the world where you can catch large numbers of bones as well as large bones, 5-10 lbs. on a regular basis. Plus, you have a shot at hooking a world record class bonefish every time you venture out on the flats. Every November and March my clients land several bones in the 10-13 lb. class. This is not normal with other bonefish destinations.
In addition to world class bonefish, Andros offers flats fishing for tarpon & permit as well as off shore flyfishing for Mahi Mahi and other blue water species with advanced notice. Hooking Tarpon on the white shallow flats is a great adrenalin rush and can be available from time to time in March and November. Rolling tarpon are available most of the time if you would like to focus on them for a day. I explain the island, guides and fishery in the following links -
Click Here - Bonefish Tips and <![if !supportEmptyParas]>

Click Here to learn why Al Caucci Bonefish Trips are Incomparable!!

<![endif]>
PLEASE NOTE THAT THE AIBC IS NORMALLY BUSY IN NOVEMBER, ESPECIALLY THE TOP GUIDES THAT I USE, SO IF YOU WOULD LIKE TO JOIN ME IN ANDROS PLEASE CALL NOW AT 570-635-5897 OR EMAIL alcaucci@hancock.net FOR RESERVATIONS!!


Cost for the program is $3495 based on 2 persons per room and 2 anglers per guide. A $1,200 deposit per fisherman is required with your registration. Full payment is due September 15, 2018 We strongly urge trip insurance.

Trip includes: 5 nights/6 days/4 full days of guided fishing. The program is priced and based on arriving Day 1, guided fishing on days 2, 3, 4, 5 and departing on Day 6. Extra days are available if arranged ahead of time. Let me know as soon as possible. Newly furnished rooms in 2013 with new comfortable beds are a welcomed addition, with air conditioning, bath, refrigerator and ceiling fans, 2 delicious American/ Bahamian meals per day in the dining room, plus a boxed lunch of your choice of food and drinks, plus delicious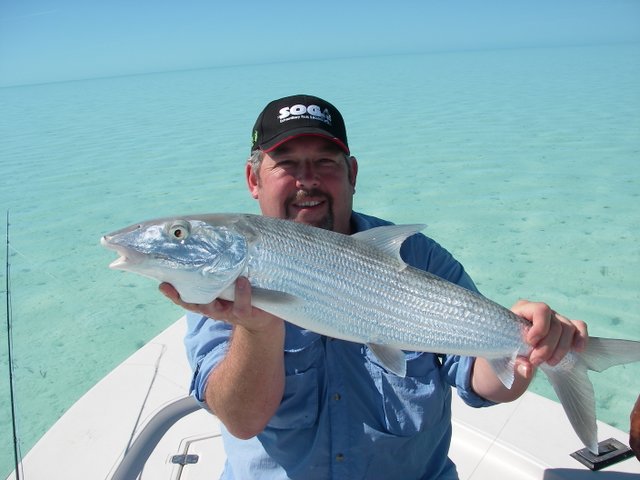 appetizers served when you return from fishing at the outside bar overlooking the flats. 4 full days of guided fishing from fast modern bonefish skiffs with the some of the best private, independent bonefish guides in the Bahamas; trip also includes bottled water and pop or juice on boats, room taxes, transportation to and from airport and free laundry service. Everything is included except gratuities, bar tab, and airfare. Extra days are also available - call or email me for extra day prices.

To register, send a $1,200 deposit to Al Caucci Flyfishing, 1250 Winterdale Road, Starlight, PA. 18461 or call Al or Betti at (570)-635-5897 and 570-807-5123 or email alcaucci@hancock.net for more details.
*<![if !supportEmptyParas]>Cancelation Policy - ACFF is a small flyfishing destination business. Due to the fact that our Missouri R. and Missoula trip's time slot is in high demand, and that I strive to book the top guides and accommodations 1 yr in advance, I must have a strict booking/cancelation policy. If for any reason you must cancel your reservation, your deposit is non refundable unless you have a replacement, no matter what the cause of cancelation. We recommend that you protect yourself from any last minute changes, cancellations or any other unforeseen circumstance with Travel insurance. Thanks.<![endif]>