Al Caucci has spent two months per year for the past 30 years flyfishing for bonefish in the Bahamas . He has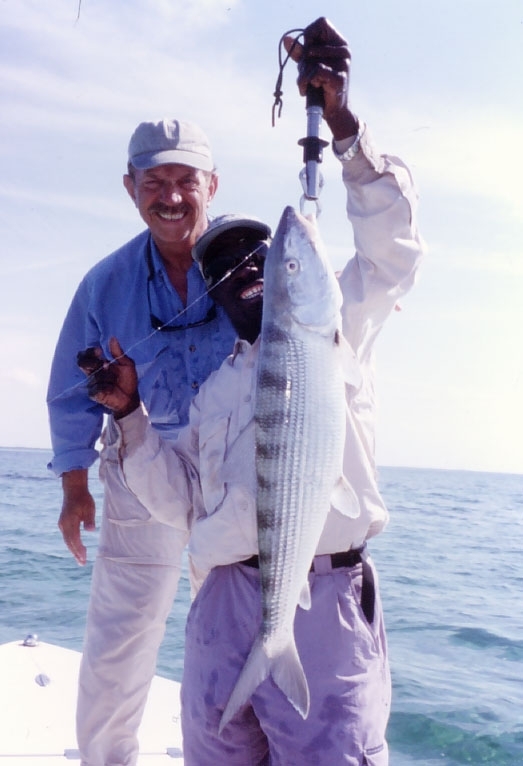 fished extensively throughout the Bahamas chain; Great Exuma, Little Exuma, Long Island , Crooked Island , Aklins, Eluthera, Grand Bahama , Andros and other areas, and spent additional time in Belize as well as the Florida Keys . Al is known throughout the world as a match-the-hatch flyfishing author/expert (Hatches I&II etc), however, his vast experience with lodges, guides, tides, weather, bonefish flat locals, and accurate long range casting ability has made Al Caucci one of the foremost experts on bonefishing in the world!
Al started his "hosted" flyfishing trips and bonefish schools in the Bahamas in 1985 and they have run consistently ever year since. His bonefish schools and hosted trips and have introduced close to a thousand trout fishermen on how to bonefish in the Bahamas . He prefers the Bahamas , especially Andros Island , for shear numbers of bonefish and for big bones (double digit fish). Click here to read bonefishing tips from Al Caucci
Here is what Al has to say about why his bonefish trips are the best!
Andros :
During the past 15 years I have concentrated on the vast area of Andros Island for fishing and teaching anglers how to bone fish. Except for the east coast settlements, Andros is totally pristine and about 90% uninhabited – in fact it is considered the largest uninhabited land mass in the western hemisphere! It is also the greatest bonefish nursery in the Caribbean , and recently research is starting to reveal that many of the Florida Keys fish might migrate from Andros .
Andros has major populations of trophy bonefish which I target on my trips. There are places on the island where bonefish have never seen a human being! Another unique aspect of Andros is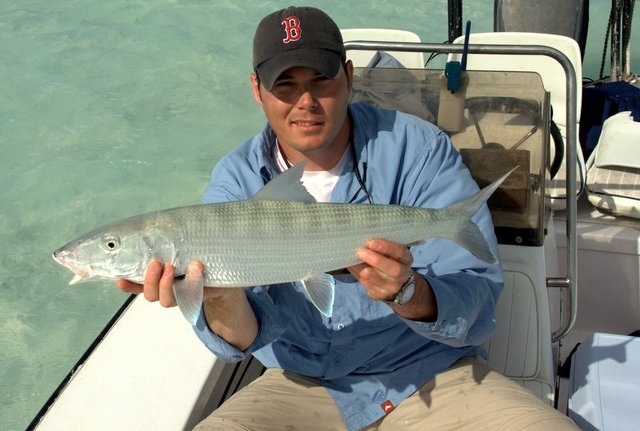 that there are 3 major "bights" that cut through the island which enables anglers to fish the ideal tide, any day of the week and also any hour of the day.
When it is high tide on the East Side, it's low tide on the West Side – as you go through a bight from east to west you can fish the ideal tide to your liking. This is unique due to the vastness of the island. The North Bight is 5 miles wide and 30 miles long from east to west. This area alone has hundreds of large flats. When you combine the East Coast and West Coast fishing, plus the North Bight, Middle Bight and South Bight, as well as the inland creeks, channels and mangroves, lakes and harbors, plus the Jolter keys in the northern tip and the Water Keys on the south tip and the countless islands on the east coast, Andros has approximately 1500-2000 square miles of bonefish flats and pristine habitat. You could probably get all the known bone fishing destinations in the world together and they won't make one Andros . That's why I spend two months a year here!
Guides:
Through my travels in the Bahamas , I have fished with close to 100 different guides in dozens of lodges. After spending 15 years at this I know all the top players and guides, and most of their families. I hav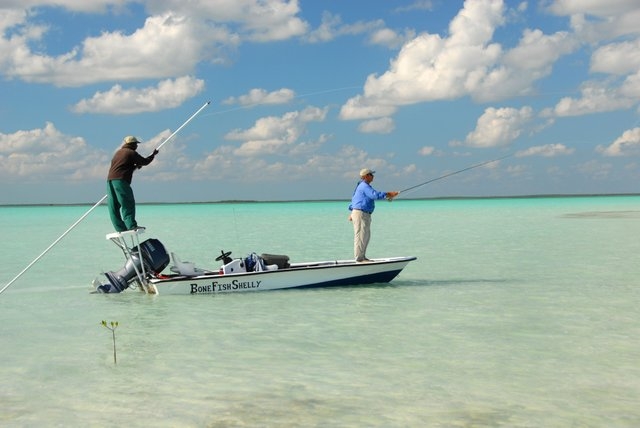 e selected 6 of the top "independent" guides on the island for my trips that enable me to get to any location on the island!
Often, bone fishing comes down to fishing conditions and when the wind is blowing you need a guide that still locate the fish, can pole and hold the boat in 20 mph wind. They must have reliable and fast boats that can travel to the best spots with the best leas (out of the strong wind). Unlike many lodge guides, these independent guides can operate in all conditions and importantly, have great people skills. All of my guides are excellent casters and teachers and have great personalities and humility. They are expert in getting even the lowest novice into plenty of bonefish – if you can cast 40 feet, you will catch bonefish.
Big Bonefish:
It's no small wonder why Andros produces the largest size bonefish on average in the world! It is by far the best bonefish destination in the world, where you can catch large numbers of bones as well as large bones, 5-10 pounds on a regular basis. Plus, you have a chance to hook a world record bonefish every time you venture out on the flats. Every November and March my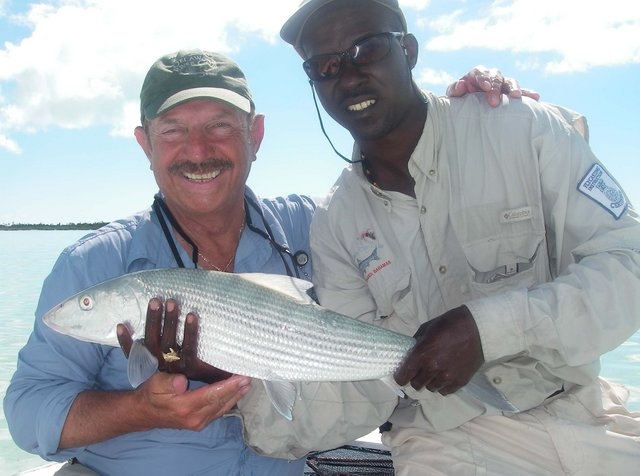 clients land several in the 10-13 pound class. This is not normal with other bonefish destinations. I hook and land about 10 bonefish between 7 and 12 pounds, sometimes larger – up to 14 pounds. I've hooked and lost a number of bones over the years that cold have been world records. I weigh all my fish over 5 pounds on a boga grip scale which helps me release a fish with minimum handling. Most people look at a 5 pound bone and think it is 7-8 pounds due to the incredible fight that they provide. For example, if you hook a fish over 7 pounds, it will run 150-200 yards several times and it will take about 30 minutes to land – more for double digit fish over 10 pounds.
Lodges – Location, Location, Location:
There are dozens of lodges in Andros , some are bare bones and some are very up scale. I selected Andros Island Bonefish Lodge for the following reasons:
- Great location right on the ocean flats at the entrance of the North Bight
- Gateway to top fishing grounds, North, South, East, and West.
- Best proximity to my top guides who live in the area
- Clean, spacious rooms, good food and drinks, extremely friendly staff, free laundry and shuttles to the airport which is close by.
- At the Andros Island Bonefish Club we are located right on the North Bight. During a normal days fishing we can go to the East coast, Middle Bight, South Bight, Spanish Wells and West coast and well up and down each coast, covering almost 50% of the island. At Small Hope Bay Lodge, our alternate lodge, we can cover an additonal 30% in the north central part of the island including the Jolter keys.
So, it's the best bonefish destination with the biggest fish on the planet, the best guides, the ideal lodge location, plus hands on guidance from Al Caucci who will also advise you on the best rods, reels, lines, flies for Andros and will show you how to use them! Al's "hosted" trips are held in March, November and sometime Feb., which offer the best windows of opportunity both for big fish and numbers! Click here to learn more about Al Caucci's Andros Bonefish trips.