July 7, 8, 9, 10, 11, 12, 13 & July 13, 14, 15, 16, 17, 18, 19
The Missouri River, from Holter Dam to Cascade, is the "best dry fly river in the world" during the month of July! Prolific mayfly and caddis fly hatches and 6,000 wild browns and rainbows per mile, many of them 20"-24" CLICK HERE FOR 2017/2018 TROUT PHOTOS, with an average trout landed being 17"-19" and much bigger in the Land of the Giants.
I seldom hook trout less than 18" on this amazing river. The bows and browns are incredibly fat specimens! Like most rivers, you must time your visit within the proper time frame, best action has a narrow window. Our trips are planned for the peak period of insect and trout activity when it is difficult to get guides or accommodations. I reserve my guides and accommodations 12 months in advance to insure the very best opportunities for my clients. On those occasions when hatches are early or late, we still hit match-the-hatch activity in our time slot. Our guides are the best on the river for head hunting with dry flies sipping trout, as well as excellent nymphing and streamer fishing. Trip is ideal for novice, intermediate, or expert fly fishing.
The 2018 trip was epic in terms of size and numbers of fish landed, with an average of about 15 big wild rainbows and browns per person, per day, on dry flies and more if your skill level is good. Nymph fishing is also excellent! The Missouri at this time is a "kick ass" river with sipping trout all day! Our guides are the best on the river (we float 5 consecutive days). The guides will also wade if you like. I pay extra for our guides and make special arrangements to float during the time frame that we need as well as arrange daily trips to the "Land of the Giants".
The "Land of the Giants" produced lots of big fish over the past few years, on dry flies to PMD duns and spinners, and several species of Caddis, as well as nymphs, tricos, and streamers! We usually have blanket Trico hatches and spinner falls. So I have made arrangements to have a special boat jet boat guide in the "Land of the Giants" daily so that we all can spend at least one full day in this amazing place.

The dry fly, nymph and streamer fishing here is still producing bows and browns in the 17"- 29" class with an average of over 20inches. July 2017 and 2018 I landed several 28"+ rainbows on small dries and 5x tippet. When this is on it's as good as it gets with a dry fly! Nymphs fishing for big brown and rainbows is consistent in high, normal, and low water flows.

Everyone's favorite part of the Missouri is the famous 35 miles of the big Missouri from the tailwater at Holter Dam to below the town of Cascade, where you will sight fish for sipping browns and bows 17"-24+" with dry flies, our guides are all synced into these hatches.

During the past 5 years I found that the Mid Canyon to Cascade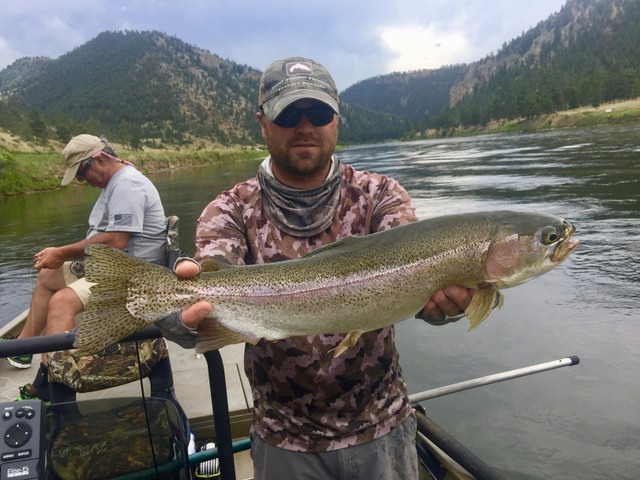 area fished the best for big bank feeders and with less traffic - During the past 5 seasons the best action was from 9am to 6pm. Also and importantly, there was very little traffic, and very few boats, in this area while the upper section from the dam to Craig was the busiest with boat and wade traffic (floats from the dam to Craig are available on a daily basis also, and can still very good despite heavier traffic).

Due to the low traffic in the lower river, we stay in Yucca Bend Lodge and cabins right on the Missouri River and have excellent private access to the river. Cabins are comfortable, done in a Montana motif with air conditioning, modern baths, living rooms with stone fireplaces, and cozy bed rooms and dinning facilities. We plan to fish from 9am right through to 6pm, and have cocktails, hors d'oeuvres, and dinner at the ranch house around 7:30pm. Our ranch house and cabin have private access to the river with some great evening fishing during the evening caddis hatches and and spinner falls for those who still have some energy left.
Sherri will be our chef again for the 11th straight year and will prepare our breakfast and dinner with her delicious steaks, chops, roasts, chicken, ribs with all the trimmings, plus home baked cakes, pies, muffins – and plenty of it. Sherri never ceases to amaze with her relentless energy and culinary talent. So, it's great fishing, great guides, delicious food, wine and excellent accommodations.
Cost for the 7 day, 6 night, 5 guided float days including the Land of the Giants Trip is the same as its been in the last 6 years - $3895. That's arrive day 1, fish days 2, 3, 4, 5, 6, and depart day 7 after breakfast. Fishing is also available on arrival and departure days and in the evenings on our private access to the river.
$1,500 deposit is required at registration.
We highly recommend trip insurance.
Trip includes: 7 days, 6 nights accommodation (2 per shared room and bath/2 anglers per boat) with 5 full day guided float trips; all meals, snacks, lunches, drinks (soft drink, juice, coffee, tea, beer, wine). Everything is included except air fare and tips for the guides and chef. Ranch cabins hold 7 beds and 3 baths. Private room and bath are available for an additional $50 per day with our affiliate motor lodge in the town of Cascade (1 mile away).
To register, send a $1,500 deposit per trip to Al Caucci Flyfishing, 1250 Winterdale Road, Starlight, PA. 18461 or call Al at (570)-807-5123 or Betti at (570)-635-5897 (before Thanksgiving only), or text my cell 570-807-5123, or Email alcaucci@hancock.net for more details. We will bein Florida from Nov. 27 through April 5, but I will be receiving emails, texts, and phone calls daily at 570-807-5123. So call me now for more details and sign ups!
Cancelation Policy - ACFF is a small flyfishing destination business. Due to the fact that our Missouri R. trip's time slot is in high demand, and that I strive to book the top guides and accommodations 1 yr in advance, I must have a strict booking/cancelation policy. If for any reason you must cancel your reservation, your deposit is non refundable unless you have a replacement, no matter what the cause of cancelation. We recommend that you protect yourself from any last minute changes, cancellations or any other unforeseen circumstance with Travel insurance. Thanks.