What the Critics are Saying:
"Al Caucci is the most single-minded dry fly addict I have ever met, also the most knowledgable.
This year on the Delaware River his precise analysis of hatches and currents helped me to hook and land brown trout in excess of 23 inches. Then, on the Missouri, we had a two day stretch of dry fly fishing--pure 'head hunting'--that I have only dreamed of.
In thirty five years of flyfishing (and writing about it), I have never come across someone who knows exactly how he wants to fish and how to fish the best places at the best times.
It was truly, the trip of a lifetime. Of course, you still have to catch the fish yourself!"
Peter Kaminsky, flyfishing author and Outdoors columnist, The New York Times
Al,
before I forget I wanted to personally thank you for one of if not the best fishing experience of my life. My week dry fly fishing on the Missouri was one of the most challenging and most rewarding experiences of my fishing career. But beside the river, I want to say I don't know how you do it, but everything from the house, to the food, not to mention the wine, to the grou
p, to the guides and to the coming and goings was perfect.
I will long remember a 25+inch trout that took out 200 yards on his first run and then charged me so fast I could not keep up with him (I have sent you his picture). It is the memories of this trip that will be the measure of all trips in the future. Till we fish together again,
Tight lines! Rich Cotter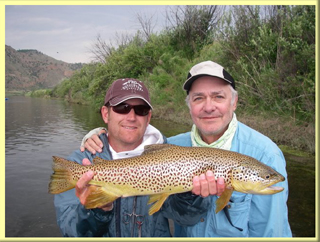 Peter Kaminsky, a big Missouri River "dry fly" brown trout, with one of Al's top guides.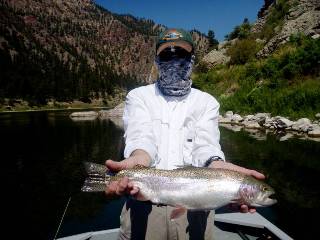 Richard Cotter's Missouri River Trout